May 20, 2022 – London, United Kingdom – Linnovate Partners, the leading asset servicing company in the alternative investment space, has been named finalist for 2 categories at The Drawdown Awards 2022 namely Service Provider Awards for Fund Administration – Technology & Innovation Category and Service Provider Awards for Fund Administration – Over $50bn (total assets under administration) Category.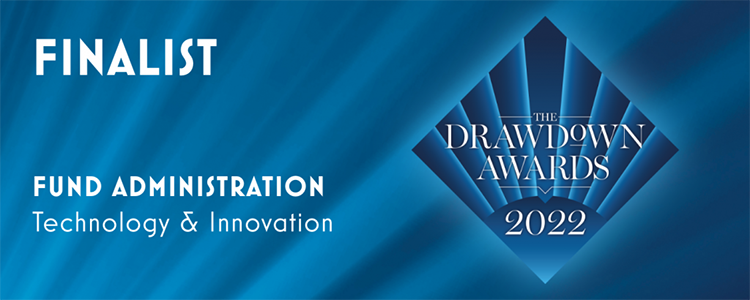 The Drawdown hosts its annual awards to celebrate excellence and innovation within private capital fund operations. The award recognizes a wide range of suppliers and vendors that have demonstrated expertise and top-class client services standards in their provision of services and advice to the private equity fund community. Success depends on a mixture of demonstrating customer and revenue growth, as well as detailing how new initiatives, products or services have aided the business and helped clients.
Commenting on being selected as one of the finalists, Henry Lin, Founder & CEO of Linnovate Partners said, "We are honored to be recognized by The Drawdown for our dedication in asset servicing. Our success illustrates our ongoing commitment to optimize our technology platform that deliver measurable results, easy to use, and quick to deploy. Ultimately our mission is to transform the industry by introducing automation to simplify the workflow."
The awards are judged by an expert panel of leading private capital fund COOs, CFOs, CCOs, GCs and CTOs. Finalists are selected on entrants' submissions, and their responses to questions across a range of qualitative and quantitative criteria and performance metrics. The judging process is rigorous and independent.
The winner will be announced at The Drawdown Awards Gala which will be held on June 9, 2022 at Hilton London Riverside. Stand-up comedian Jo Caulfield will host the ceremony in-person and will handout the well-deserved trophies to private equity leaders across 34 categories.
About Linnovate Partners:
Founded in 2016, Linnovate Partners has become a disrupter in Fintech space as the leading asset servicing company in the alternative investment industry. Leveraging on automation and data integration technologies, we provide an integrated suite of technology, services and consultancy that are tailored to the specific requirements of asset and fund managers. Linnovate currently operates in Asia Pacific, United States and United Kingdom with a growing number of locations globally.
For media inquiries:
Andrea Balboa
Marketing Manager