Your trusted alternative asset service provider
Linnovate Partners is a premium asset servicing firm, blending technology with industry expertise to deliver transformational experience to each and every client
Higher Performance
Through Automation
We are dedicated to helping investors and investees to unlock investment value, and to streamlining various processes through automation, from administration to reporting to monitoring.
Our Raison d'être
Leveraging technological innovations and process automation, we deliver immediate productivity gains to our clients, while ensuring full accuracy, reliability and security of all our premium services.
Our Solutions
Linnovate Partners' premium services are supported by our state-of-the-art proprietary technology, as well as sophisticated third-party systems featuring automation technology.
Fine Tools
Linnovate Partners offers automation technology and data integration services via two industry-leading third-party systems: eFront, one of the world's leading end-to-end alternative investment management software and solutions provider and now a part of BlackRock, and Microsoft Azure, a leading public cloud platform with solutions offered to front, middle and back-office operations in the alternative asset industry. These platforms are fully integrated with our ecosystem SMP Net, which brings together the tools and solutions for our clients and helps streamline and optimize their investment cycles, operational processes, and periodic reporting.
Much-needed Flexibility
Asset managers need to have the right tools and information to meet investors' demands anywhere at any time. Our technology can provide the flexibility you need, so that you can generate advanced financial analyses and personalized data without a hitch.
Greater Data Consistency
Having the right tools and the right information is key to delivering investment returns effectively. Linnovate Partners' cutting-edge technology can integrate your middle- and backoffice data and put everything on a single workbench. With that established, you can access portfolio risk tools and different industry insights with ease, while still working efficiently with your clients and partners.
We Streamline, We Simplify
In the 21st century, every aspect of your business operations is getting more complex than before. Working faster and smarter is the way to go.
At the heart of Linnovate Partners' infrastructure is the SMP Net, our in-house proprietary asset servicing platform designed to streamline clients' middle and back-office operations. A data-bridging ecosystem, SMP Net connects GPs, LPs and other stakeholders in the alternative investment space, and enables seamless transmission of encrypted data through our blockchain technology.
SMP Net brings together the tools, resources and insights that you need on a single platform. Everything is at your fingertips.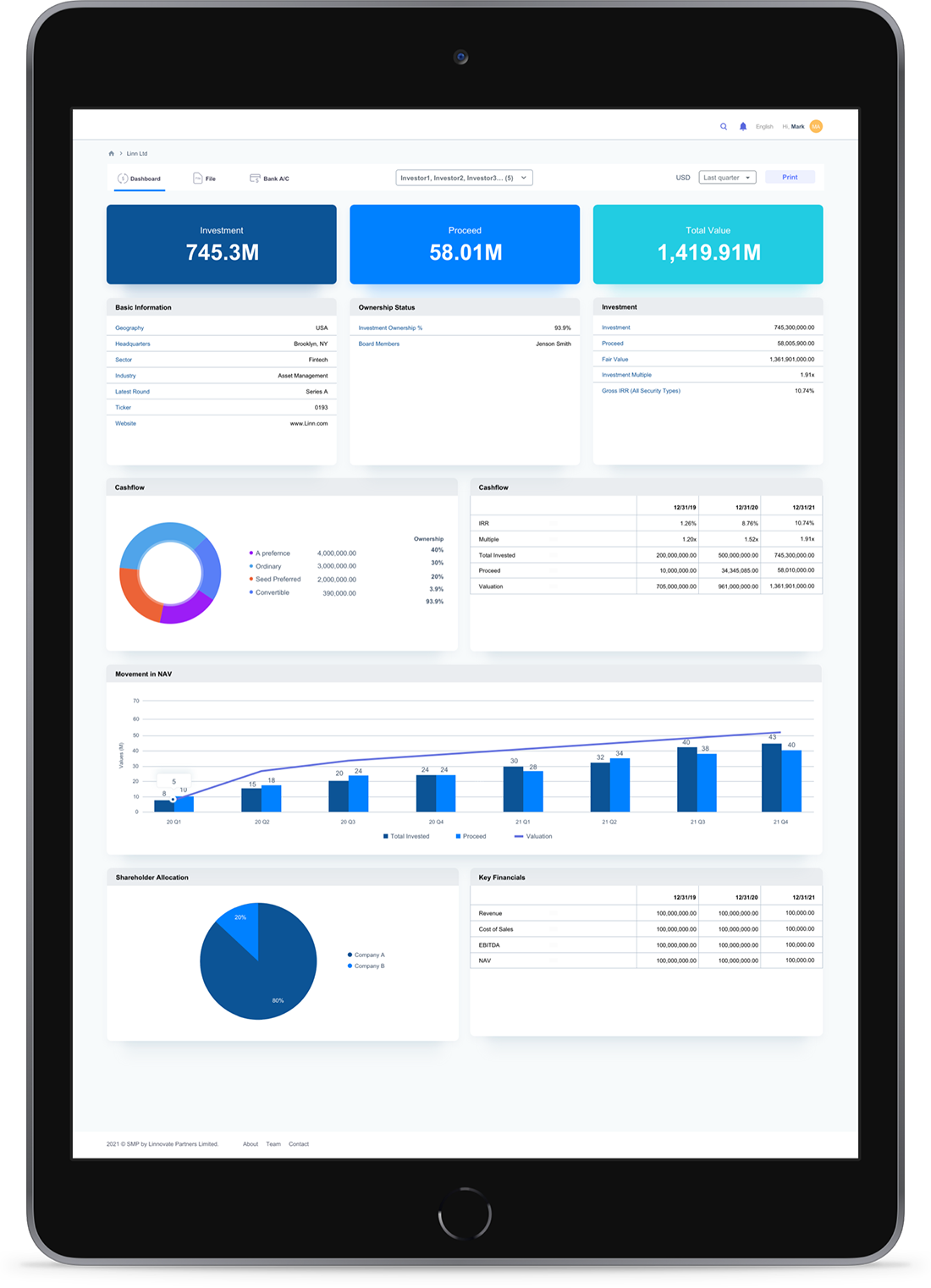 Key Milestones
A young company it may be, but Linnovate Partners has already marked many milestones since its inception.

2016

Hong Kong Headquarters

We establish our headquarters in Hong Kong, which complies with the ISAE 3402 (Type II) standard.

2017

Forward And Northward

Our Beijing and Shenzhen offices are opened

2018

Going Global

We widen our global presence by opening an office in London and another in Singapore.

2019

Believe, belong, become

We form partnerships with a number of companies that are leaders in their own field. For example, we team up with PwC Hong Kong to provide streamlined back-end operation support to asset management companies in Greater China. In addition, EY is our external fund accounting partner. All these relations have further strengthened our clients' confidence in Linnovate Partners as a competent and reliable partner.

Today

Mark of Excellence

We are a member of global associations and organisations to consistently contribute and drive the sector's innovation and digitisation development.

Multiple Accolades Under Our Belt

We have won numerous industry awards, which speak volumes of our commitment and standing in the profession.

New Office in Silicon Valley

We have widened our global presence by opening an office in Silicon Valley.
Our Clients
Key clients include leading private equity and venture capital fund managers, financial institutions and global corporates.
Our Awards